Tega Cay: The Ideal Day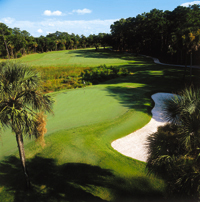 CHARLOTTE, NC - The ideal day. What does it consist of for you? Since you've logged onto this publication, it must have something to do with golf. And admit it, right after you're reading about a few choice tracks in the Carolinas, you are going to head right over and check on your fantasy league baseball team.
Would it be safe to say your ideal day involved golf and the boys of summer? Charlotte may not have a major league baseball team (yet), but it does have some major league golf courses (over 70 within a 60 minute drive), and a AAA baseball team in the Charlotte Knights (Chicago White Sox).
Just so happens that combining these two elements into a one days outing is as easy as a southern drawl in the Queen City. The Charlotte Knights Stadium is just over the stateline in the town of Ft. Mill, SC, about twenty minutes south of the city. Incidentally, so is the Tega Cay Golf Club - 27 holes of rolling fairways and elevated tee boxes situated along Lake Wiley.
To beat the crowds, book a weekday late morning tee time at Tega Cay, and plan on taking in a Knights game that evening, with dinner wedged in between (more on that later).
Tega Cay Golf Course sports an older 18-hole layout resplendent with rolling, narrow fairways, excellent views of the river valley, and fairly good conditions. But it is the new nine holes, the Grande View, which opened in December of 1999 that is the real attraction at Tega Cay.
The Grande View is a cut above the other nines in both layout and conditions, and is devoid of housing - for now. Taking a glimpse at the first hole tells you all you need to know about this new set of nine. An elevated tee box situated almost one hundred feet above the fairway leads to shallow bulkhead fortified green that is tucked behind a small pond.
From there, the Grande View just gets better, culminating with the par 5, 477-yard No. 7 hole that features a beautiful view of the lake and an "impossible to reach in two" green tucked around the corner to the right.
"The goal with the Grande View Nine was to build a nice golf course for players," says head professional Dean Sigmon. "We wanted to be challenging, but fair and that is why you see so many downhill tee shots. We felt that with the narrow fairways and undulations, we needed to provide the player with some confidence off the tee."
Mission accomplished. The Grande View Nine is a welcomed retreat from the house-lined fairways of most courses, and with it's setting along the lake, may be one of the better nines in the Charlotte area.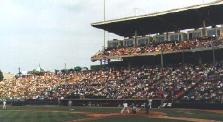 After the round at Tega Cay, head back towards Interstate 77 for Knight Stadium, but not before stopping off at McHale's Irish Pub on Gold Hill Road. With it's doublewide trailer enclosure, and makeshift driving range in the back, McHale's is anything but Gaelic. But the food, which ranges from pub grub to pan fried catfish with new potatoes, is succulent and the service is southern and sweet.
Golfers have a tendency to linger at McHale's, and with the cold Guinness tap bowing like Japanese businessmen, who can blame them. But you have a mission, and that mission is to get to the Knight's game by 6:00 p.m - the start time of most home games.
Tickets to the game will run you five dollars for general admission, and only eight dollars for box seats (kids get in for four bucks). The stadium itself is solid, but not spectacular, but grab a great seat on "Thirsty Thursday" when beers are but a dollar and you could be sitting on the side of the road for all you'll care.
Directions
From Charlotte, take I-77 south to exit 88. Exit right on Gold Hill Road and head east. The road wraps around and signs will point you towards the stadium.