Golf and NASCAR in the Queen City: Race Week's a Time to Trade Paint and Save Par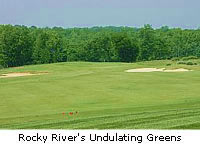 CHARLOTTE, NC -- Race week. In a mid-sized city with a professional football team, a soon to be departing pro basketball team, a triple-A baseball squad, world-class museums and plenty of shopping, NASCAR still reigns supreme.
Dozens of race teams, legions of fans, and hordes of corporate suits will descend upon the Queen City over the next three weeks to take participate and take in NASCAR's version of an all-star game – the Winston – and the regular season Coca Cola 600 at the Lowe's Motor Speedway.
While drivers and crews will spend the days on the track and in the pits, fans and corporate sponsors will take to area golf courses to kill a some time and have a little fun between races. The Charlotte region is home to over 80 courses, a good many of which are accessible in just minutes via the I-85 corridor north of the Speedway.
Poll Position
Since opening almost five years ago, the Rocky River Golf Club in Concord has capitalized on the thousands of visitors to the area by offering a top notch layout situated just across the street from the Speedway.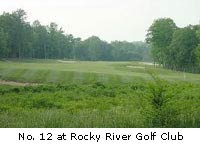 "Our day to day play is impacted greatly from the corporate crowd, more so than the average race fans," says Floyd Gragg, general manager at Rocky River Golf Club in Concord. "Almost everyday we have groups of 30 or 40 that are paying with a corporate credit card. We actually experience huge increases in play during the weekdays between the races, but on race day, because of traffic, play suffers."
Gragg says that the tee sheet at Rocky River is filling up faster than Tony Stewart on poll night. Race fans and corporate sponsors should act now to secure spots if they have any designs on teeing it up during the week between the Winston (May 18th) and the Coca Cola 600 (May 26th), says Gragg. Golfers can book tee times up to six days in advance, or they can use a credit card to secure spots up to two weeks ahead of time.
Rocky River's weekday rates are $45 Mon. through Thurs., with an afternoon rate of $35 and a twilight rate of $30 after 4 p.m. Friday rates are $49 before noon, $35 afternoon, and $30 twilight. Sat. and Sun. rounds go for $59, $39 and $35, respectively.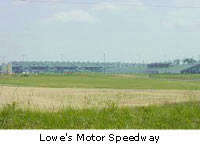 Pinehurst-based golf course architect Dan Maples designed Rocky River, which is often described as a unique golf fusion of the Sandhills, beach, and Piedmont. The most talked about hole, love it or hate it, is the par-five fifth. The construction crew uncovered a behemoth boulder when shaping the hole, and Maples opted to leave giant rock smack dab in the middle of the fairway.
The only thing filling up faster than tee sheets are hotel rooms, and thousands of race fans will bed down north of the Speedway along the I-85 corridor in towns like Salisbury and Kannapolis. Getting in a round of golf in these old textile industry and dairy farm towns can be as tricky as trading paint in the turns unless you know where to look.
The bucolic town of China Grove 20 minutes north of Concord is home to the Warrior Golf Club, a immensely popular Stan Gentry designed golf course that plays along the shores of Lake Wright. General Manager Brian Lee says that race week is by far the Warrior's busiest time of the year.
"Even when I was north of here in Salisbury, we'd get an extra 1000 rounds that week," Lee says. "And over the two week period here we'll get over 2500 extra rounds. Monday through Friday our tee sheets stay full. It's a mix of race fans and locals who have friends coming in town for the race more so than the corporate outings."
The Warrior takes tee times one week in advance, but Lee says that groups of 12 or more can book further in advance with a credit card. Rates are $37 Mon. through Fri., $47 Sat. and Sun., and a twilight rate is available seven days a week for $10 off the regular fee.
"We don't run any specials that week because we think we are priced below the going rate down in Charlotte," Lee says. "And we are in awesome shape right now, probably the best in the area. Our greens are rolling about an 11 on the stimp (meter) and the Bermuda is out because of the warm weather."
Other Great Golf Pitstops
Crescent Golf Club
The Crescent Golf Club is located about 30 minutes north of the Speedway in historic Salisbury. Like many courses in these parts, Crescent meanders through the hills and dales of an old dairy farm. Prominent Carolina course architect John LaFoy designed the course, and liked it so much he decided to buy part ownership in the facility.
Unlike LaFoy's tricked up Neuse and Devil's Ridge layouts in Raleigh, Crescent is a much more sensible golf course that has players lined up from Charlotte to Salisbury to get in a round or two. For traditionalists, the course is walkable, but buggies are the most popular means of negotiating the hilly layout. Rates are $32 Mon. through Thurs., $35 on Fri., and $42 on weekends. Twilight rates are also available.
Skybrook
Skybrook is another LaFoy designed course, and one of Charlotte's newest upscale semiprivate facilities. If you are at all familiar with the geography of North Carolina, you know that the highest points in most Piedmont towns are either the church steeples or barbecue billboards.
But somehow, Skybrook's developers, Legacy Golf Management, found some hills – big ones at that – just to the northeast of the city. Legacy then hired LaFoy to route a clever, yet player friendly golf course through the peaks and valleys of the property.
"We could blindfold someone and take them here and they would think they are in the mountains," says head professional Rodger Ross.
Skybrook has made a name for itself with its dramatic, elevated tee boxes, extra wide fairways that funnel tee shots towards the middle, and its relatively flat airplane hanger sized greens. The course is accessible from 1-85 by taking the 46B exit and driving north on Prosperity Church Road to Eastfield Road. Fees are $65 Fri. through Sun., $55 Mon. through Thurs. and twilight rates are available after 3 p.m.
Highland Creek
Highland Creek is just a chip shot down the road from Skybrook, and has been one of the most popular daily fee courses in Charlotte since it opened in 1993. Lloyd Clifton and Ken Ezell designed the course, which is narrow, tree lined and chalked full of houses.
Highland Creek is widely regarded as one of the toughest tests of golf in the region. The layout plays just over 7000 yards from the back tees, and its slope rating of 133 belies the fact that you have to be an incredible shotmaker to go low from the cranks. Rates are $48 on the weekends, and $42 on the weekdays.
May 7, 2002