Eagle Ridge Golf Club: A Texas-Sized Challenge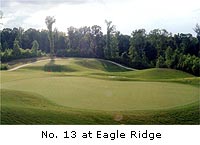 GARNER, N.C. -- Tom Kite is as purebred a Texan as tumbleweed, the two-step and a 10-gallon hat. The lifelong Austin resident grew up on a steady diet of boy howdy, Hook 'em Horns and Hogan.
But a unique slice of rolling terrain just south of Raleigh, perhaps somewhat reminiscent of Kite's native Hill Country, made his blood momentarily flow Carolina blue instead of burnt orange when he first laid his eyes of Texas upon it. Kite and co-designer Bob Cupp decided to tag team this prime parcel of the Piedmont and branded Eagle Ridge Golf Club, a non-conformist's par 71, 6,904-yard doozy that features six par 3s and five par 5s.
Kite knew a good thing when he saw it.
"The property is a beautiful piece of land with lots of hills, creeks and trees," said the 1992 U.S. Open champion. "We knew we could design a course that would nicely fit on the land. I always liked playing golf in the Carolinas because there are so many great courses there. Also, the (Carolinas) people are so golf crazy that I knew it would be fun to do a course where so many people play and enjoy the game."
You won't find any armadillos, sagebrush or bluebonnets on the course that opened in October 2000. You will find a Texas-sized challenge for players of every skill level.
Kite's golf game was built around a tenacious work ethic and precise wedge play. Eagle Ridge reflects those same qualities. He did much more than just lend his famous name to the project. Kite earned his fee, estimating he made up to 20 trips to the course during its development. And the sometimes penal, tiered, undulating greens at Eagle Ridge require exacting approach shots that reflect the requisite skills demanded by the 19-time PGA Tour winner and former Ryder Cup captain.
"Hitting it close to the pin and not just on the green is key to playing the course well," said Kite. "The greens are generally large with quite a few undulations and slopes. Even though the greens have been in excellent condition since the course opened, golfers should not expect to one- or two-putt all day long if they are long distances from the hole location."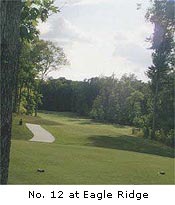 Kite called Eagle Ridge "a total team effort" in his collaboration with Cupp. The course is the fourth that the two have co-branded. The pair designed the 36-hole The Legends Club south of Nashville, which is the home of the LPGA's Electrolux USA Championship. They also redesigned the West Course at Baltimore Country Club.
"Bob and I have a great relationship with very little ego getting in the way of good design," said Kite. "He has a much better understanding of the permitting process than I do but the (Eagle Ridge) design is basically mine with some good suggestions from him along the way."
For most of his career, Kite was physically identified by large spectacles that corrected acute nearsightedness. In 1998, he altered his looks and improved his vision with LASIK surgery. Kite said that his course design skills have also come into better focus with passing years.
"As I do more courses, I think I get better," he said, adding that he considered Eagle Ridge "right up there" among his golf architecture offerings. "I'm very pleased with Eagle Ridge. As the course matures, I think it will become an even more enjoyable layout."
One of the tantalizing features of Eagle Ridge is the chance to test your accuracy with three par 3s on each of the front and back nines.
The first of the three-shotters is No. 2, a downhill 165-yarder from the back tees that Kite named as his favorite of the par 3s. For severity of drop off from tee to green on this hole, think of a longer version of Pebble Beach's No. 7 - minus the Pacific Ocean and Carmel Bay as backdrops. Trees overhang the tee shot and a creek wraps around the green.
The 10th hole, a 579-yard, par-5 shot maker's test, may be the toughest hole on the course, though it's only handicapped as the fourth most difficult. With a well-placed drive, the second shot requires a player to assess his abilities. You can lay up into a landing area short of a marsh and leave yourself 200-plus yards into a green beautifully framed by hardwoods. Or, if you've got the game and derring-do, you can attempt the carry and be left with just a short- to mid-iron approach. This hole cannot be successfully played (par or better) without your brain fully engaged on every shot.
Kite, who developed his game - and endearing parts of his down-to-earth persona - under the guidance of Harvey Penick, would probably consider himself a traditionalist. Eagle Ridge's distinctive mix of par 3s and par 5s was not a matter of Kite going, well, Gary McCord on us. He was not making special efforts to be different. Kite said "that is just the way the course seemed to lay in there" in regards to Eagle Ridge's paucity of par 4s (seven).
"We try and be traditional as much as possible but sometimes, usually because of some restraint, like the development or wetlands or steep hills, you cannot do that," said Kite. "We try and get par 72s, but that does not always work out. So what we came up with is a blend which we think produced the best holes - as opposed to forcing a par 36-36-72."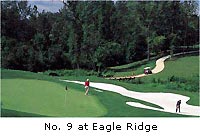 Kite won't be giving up his statehood birthrights anytime some and do something extreme - say, give up Texas beef barbecue for the traditional North Carolina pig variety - but he did admit that he enjoyed his first taste at contributing to the Carolina golfing landscape.
"I would love to come back and do some more," he said. "The land in North Carolina is so diverse and interesting that it lends itself for golf."
Where to Stay
There are not a lot of lodging opportunities immediately nearby unless you know someone who lives in the Eagle Ridge planned development community. The good news is that Garner is only eight miles south of the state capital. If you want to stay in downtown Raleigh and visit the revitalized City Market area of shops and restaurants, your best choice would be the Sheraton Capital Center with reservations available at 919-834-9900 or through the hotel's website: www.sheratoncapital.com/html/home.html.
Scorecard
Conditions: 3.8
Scenery: 3.5
Layout: 4
Par 3s: 4.2
Par 4s: 3.6
Par 5s: 3.8
Service: 4.2
Practice Facilities: 3.4
Clubhouse/Pro Shop: 2.5 (temporary facility)
Challenging greens: 4.5
Pace of Play: 4
Value: 4
Overall Rating: 4
July 17, 2002