Dunes West Golf Club Mixes History with Playability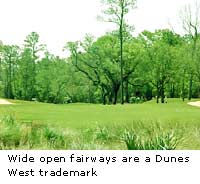 MT. PLEASANT, S.C. -- Like so many golf courses in the Charleston area, the history of Dunes West Golf Club is inexorably tied to Hurricane Hugo. When the massive storm hit in 1989, this Arthur Hills designed course was just a pile of plans and topographic maps waiting to spring from the walls of the drawing board into a riparian setting along the Tommer Creek.
The course may have been tucked safely away on paper, but the property caught the brunt of the storm's 130 mile per hour winds.
Hugo destroyed hundreds of Live Oaks and hardwoods on the property, and the layout would never be the same. Before the violent storm, the course was intended to have a North Carolina feel to it – tight, bending fairways framed by deciduous hardwood trees and long afternoon shadows that oozed with tranquility.
Afterwards, it was a totally different golf course.
When Dunes West finally opened in 1991, the layout was wide open, and new views of the creek opened up from the fairways and greens. The course took on a linksy feel, much to the surprise of its owners, and it also took home a "Top Ten Resort Courses of 1991" award from Golf Magazine.
"Things have worked out for the best and I actually think this is a better golf course because of what happened," says general manager Richard Rankin. "Now we have one of the most playable courses around. It's totally open off the tee and the emphasis is on the approach shot."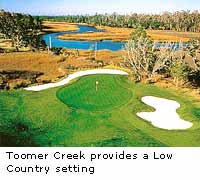 If the name Dunes West sounds vaguely familiar, it should. Wild Dunes, one of Charleston's high-end resort facilities, is just a chip shot away on the Isle of Palms. Wild Dunes and Kiawah Island helped put the Holy City on America's golf map with their dramatic seaside links and Lowcountry flavor. Dunes West was originally slated to join the two Tom Fazio designed tracks at Wild Dunes before Hugo hit, but the original owners pulled out at the last minute.
"There is quite a history to this course and this property," Rankin says. "It has changed hands a few times but it has persevered and now it speaks for itself as a good, fair, golf course."
Dunes West is built on the old Lexington Plantation, an antebellum rice and brick farm that reaped the benefits of its proximity to the Cooper River. Henrietta Hartford purchased the property at the turn of the century and transformed it into a hunting and fishing retreat, complete with a nine-hole golf course and a saltwater swimming pool.
One of the greens from the original nine holes is still in place on the par 4 18th hole, front and left of the regulation green and snuggled just in front of the Toomer Creek. Golfers are welcome to play to the old green to get a feel for the original routing, or they can gut it out by playing to the new green a full 454 yards away from the blue tees.
"Hills did an excellent job of incorporating the historical elements of this site," Rankin says. "There are two old chimneys from the slaves' quarters just off the 16th tee box and a 1900's pump house along the first fairway that are protected by the National Historic Register."
Jack Nicklaus has his diabolical greens and holes that favor high fade shots. Tom Fazio has his surreal, streamlined bunkers and majestic green complexes. But Hills' design signatures are hard to pin down. Students of golf course architecture will often say that Hills is a chameleon, adapting to whatever piece of land and project budget he's working with. In the case of Dunes West, Hills was asked to preserve the natural topographic lines of ancient sand dunes and Lowcountry feel fostered by the 200-year-old Spanish moss draped Live Oaks.
Mission accomplished.
The opening holes, as wrought by Hugo, are wide open and inviting. The back nine is a bit tighter and actually requires that golfers demonstrate some precision off the tee. The final stretch of holes, beginning with the par 5 15th and ending with the picturesque 18th, is Dunes West's strong suit. Sprinkled among the entire layout are tastefully designed Lowcountry homes that sit far enough back from the course to be a pleasant diversion and not an obnoxious eye sore.
"I think it is one of those rare instances when the homes actually add to the overall flavor of the course," Rankin says.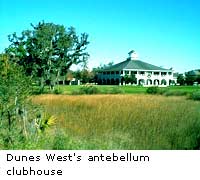 Lately, that flavor has taken on the acrid taste of a water-starved region. The epic drought that has ravished the southeastern U.S. over the past three years has made its mark in Charleston, but local golf courses pick their battles carefully by focusing their irrigation efforts on the greens, fairways and tee boxes. Rankin says that the Scratch Golf Company, owners and operators of the course, are seriously considering their turf grass alternatives. One option would be to grass the course with the revolutionary Seashore Paspalum – a native coastal grass that thrives on salty water.
"We are experimenting with Seashore Paspalum on one of our greens and one of our fairways right now," Rankin says. "We might be changing over in the next couple of years. This year alone we are 17 inches behind on our rainfall. The courses around here are green, but we are struggling with quality because our well water has high levels of salt content."
Dunes West's superintendent and grounds crew have done their best to keep the 6871 yard course nice and green, and golfers will find the track to be in as good or better shape than most of the daily fee courses in town. Greens fees in the summer months are particularly palatable. Weekday rates, including cart are $39 and weekends are $49. In the peak spring and fall seasons, rates increase to $69 on weekdays and $85 on weekends.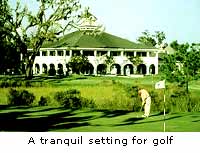 "We have a resort course feel and we get a lot of the golfers that played at the resort courses coming over here, but we don't charge what they charge," Rankin says.
A good golf course at a great price. Henrietta Hartford would have been proud.
Where to Stay
The Sheraton North Charleston is a full service hotel just 20 minutes away via Interstate 526. The Sheraton offers a full range of golf packages in conjunction with Charleston Golf Partners. Golfers also enjoy the Sheraton's golf themed bar and restaurant, an all-you-can eat breakfast, and shuttle service into downtown. For more information, or reservations, call 800.247.5786 or log on to www.charlestongolfvacations.com.
Where to Eat
The Boathouse at Beach Inlet (843.886.8000) churns out some of the best seafood and steaks in town while coming off as something like a neighborhood pub. There's an outdoor bar upstairs, equipped with the obligatory acoustic guitar player, ice-cold long neck beers, and "you must be kidding me" views of Charleston Harbor and the Atlantic Ocean.
Downstairs is a cozy dining room with white paneled walls, dark wood tables and chairs, and a wine list to go nose-to-nose with any fancy joint downtown. The Boathouse was a recipient of Wine Spectator's 2001 Award of Excellence, and sports a list of nearly 50 reds, 40 whites and 10 sparkling wines.
Scorecard
Conditions: 3 (out of 5)
Scenery: 3.5
Layout: 3
Par 3's: 3.5
Par 4's: 3
Par 5's: 3
Service: 3.5
Practice Facilities: 3
Club House/Pro Shop: 4
Pace of Play: 4
Value: 3.5
Overall Rating: 3.4
July 8, 2002