Ballantyne Resort: Where Business and Pleasure Come Together
CHARLOTTE, NC - Charlotte has never claimed to be a major golf destination. But when it comes to business, the Queen City makes a strong argument for being one of the most popular stops in the U.S.
With Bank of America, First Union, and Wachovia national banks all making their headquarters in this financial mecca, Charlotte sees its fair share of suits, ties, and rental cars.
This travel trend has not been lost on the Ballantyne Resort - the only golf resort between Pinehurst and Asheville, NC The National Golf Foundation estimates that one out of every five golf travel rounds is business related.
And Ballantyne Resorts' 18-hole golf course makes darn sure that these rounds have a place to go, and it does so by providing one of the most upscale daily fee golfing experiences in the region.
"Our market niche is that we are a business destination first, a golf destination second," says head professional Woody Allen. "We have conferences of over 1000 people and we have 400 plus rooms at our disposal to handle accommodations."
Ballantyne opened in 1998, but the face of the property has changed dramatically over the past year with the opening of the resort hotel. As luxurious a digs you'll find in suburban Charlotte, the resort hotel incorporates the golf proshop, conference rooms, and restaurant into one facility.
As you'll see when teeing it up on the golf course's 18th hole, the resort hotel also provides a dramatic anchor for a par 4 that has to be one of the best finishing holes in town.
"We always claimed that the 18th was the signature hole, but it finally feels right with the resort hotel in the background," Allen says.
But 18 doesn't just sit there and look pretty - it's an amazing golf hole to play. From an elevated tee box, the hole plays downhill and to the left, requiring a nicely drawn tee shot that few average golfers possess. If you hang it too far out to the right, you'll be forced to approach the green with a mid iron over a small pond that is nestled right up against the resort hotel.
"That approach can strike fear in any player," says Dana Rader, a Golf Magazine Top 100 Teacher and resident teaching pro. "The hotel might not even be out of play for bad slicers."
The remainder of the Ballantyne golf course is not quite so nerve racking, but it's not exactly a walk in the park, either. Due to the Resort's location just a few miles from downtown Charlotte, the course designers did not have a lot of land to work with.
The par 71 layout was cleverly routed through a precariously rolling piece of property that would give the game's best course designers fits.
Except, the Fazio's, Dye's, Strantz's and Maples of the world never touched Ballantyne's golf course. The ocassionally challenging, always fair golf holes are a result of a collaborative effort between Land Design, Inc. and a local design committee.
"We don't have the big name and we don't need it," Allen says. "We just came off of our best growing season, and the greens are in marvelous shape. Players will find that the holes are challenging, without being penal. We are a resort course, after all, so we don't want to beat players up."
Ballantyne plays to just 6735 yards from the back tees, a yardage that is somewhat refreshing in this day and age of the 7000-yard golf course. Playing from the white tees, the average golfer will encounter a manageable slope rating of 127, and a solid mixture of short and long par 4's.
Yet, Allen says it's the course's par 3's that cement Ballantyne's reputation as one of the area's top courses. Many golfers are surprised to find five one-shotters, all of which bring something different to the table.
The 185-yard 4th hole is the third longest par 3 on the course, and plays as tract's the second easiest. The 205-yard 7th and the 225-yard 16th were designed with the lower handicapper in mind, and the later hole is actually the sixth most difficult on the course.
Hands down, the best par 3 at Ballantyne, and one of the best in Charlotte, is the 150-yard 11th. The hole plays from a sliver of a tee box over a sculpted, man made pond with fake ducks to a peninsular green with two-tiers.
"The 10th was our true signature hole before the resort hotel went up," Allen says. "But you could still make an argument for it now."
Ballantyne makes no secret about its desire to appeal to the affluent businessman and woman, but Allen says the resort receives a great deal of local play. At just over $60 in the peak season, the resort course is one of the most expensive plays in Charlotte. This does not deter locals who are willing to pay a little extra for what they get, according to Allen.
"We have the best pace of play in town, and I would estimate that 75 percent of our play is local" he says. "We try to walk that fine line so that everyone enjoys their round of golf because they can play it in four hours. We actually try not to sell out all of our tee times. Also, players enjoy the practice facilities here, which is a huge market niche for us."
Ballantyne has an immaculately maintained practice range where players will always find a swath of fresh green grass waiting for them. Golfers taking lessons at the Dana Rader Golf School are located on another driving range directly across from the base range.
"Dana's school has been a huge asset to this facility," Allen says. "We can accommodate the player that is on a business trip, but wants to tune up his game before he plays in the company's outing. Or, Dana works with locals through one of our programs. That is a huge part of our success here."
Expect the best at Ballantyne, but don't expect the following: A beverage cart or overseeded fairways in the winter months. Allen says that Ballantyne likes to provide a consistent level of service, and that having a beverage cart run only certain times of day and year (as most courses do) only confuses local players. Instead, the course has a halfway house with beverages and snacks that is always open.
As for the dormant Bermuda, it is common for courses in North Carolina and northern Georgia not to overseed, thus enabling the Bermuda grass to grow in thicker and healthier in the spring.
"I don't think you need rye grass fairways to enjoy this course in the offseason," Allen says. "The greens are bentgrass and always in great condition, and the dormant Bermuda actually gives you much better lies than rye grass."
And speaking of enjoying the course, women will find Ballantyne particularly accommodating. Rader was involved with the design and construction of the golf course, and ladies will find three sets of rated tees ranging from 6065 to 4710 yards.
Ballantyne Course Capsule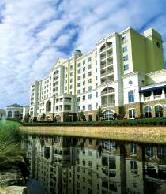 Designer: Land Design Inc.
Year Opened: 1998
Turf: Greens - bentgrass, Fairways - Bermuda with no overseed. Slope/Ratings: Men - Gold 73.7/137, Blue 73.3/135, White 69.8/127, Women - White 76.2/138, Green 72.4/129, Red 68.6/118
Yardage: Gold 6735, Blue 6600, White 6065, Green 5420, Red 4815 or 4710
Address:10000 Ballantyne Commons Parkway, Charlotte, NC 28277
Head Professional: Woody Allen
website www.ballantyneresort.com
Sharp Says: When it first opened, Ballantyne's Resort Course was one of the busiest in Charlotte. Now, the owners and management have decided that they don't want to be a golf factory, and it shows. Most of the time, you can play this course in a four-hour clip - a rarity these days. Take note of how much golf course Land Design Inc. sandwiched into this restrictive site.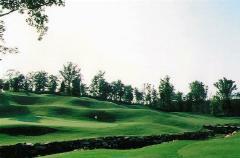 The bustle of Interstate 485 is visible from a few of the holes, but Charlotte's uncompleted beltway is not nearly the distraction it would appear to be at first. The service at Ballantyne is consistently the best in town. No matter what time of year, you are greeted at your car by an outside service employee, and the next thing you know you clubs are on one of the carts below. Plan on taking a cart unless you are physically fit. Ballantyne sees only 2000 walking rounds each year, mainly due to the hilly terrain and cart-oriented tee box to green layout, and not course policy.
Scorecard
Conditions: B
Layout: B
Service: A
Practice Facilities: A
Club House/Pro Shop: A
Pace of Play: A
Value: B
Overall Rating: A-/B+
December 8, 2001