Latest Carolina Golf Articles
Features | Reviews | Photo Galleries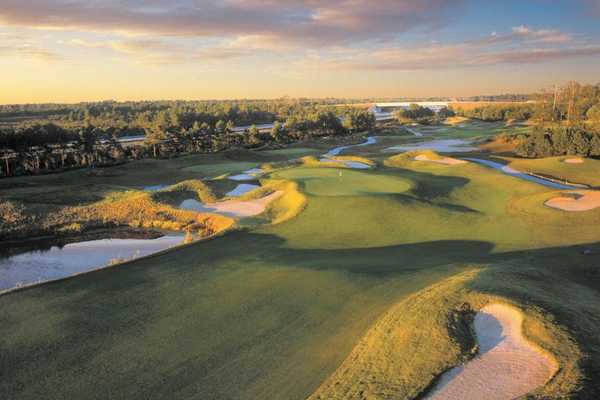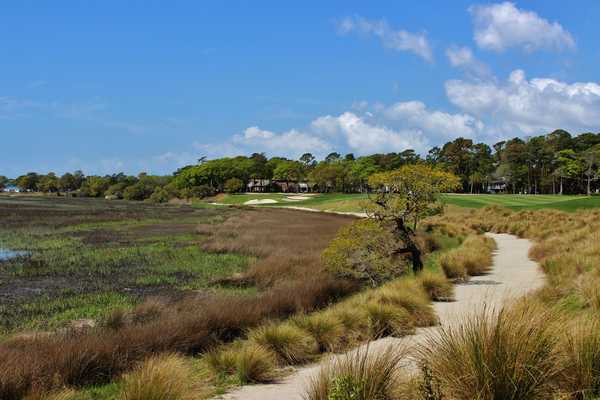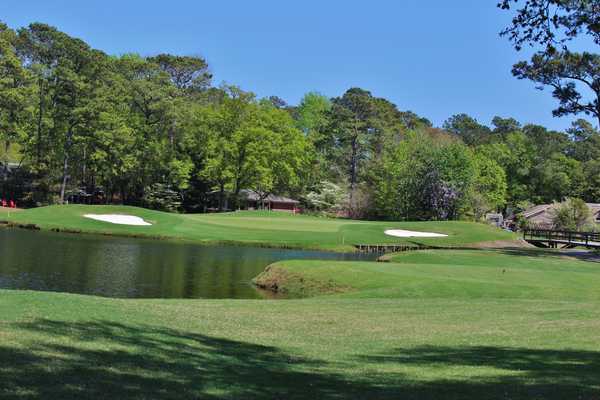 There just aren't many chinks in Tidewater Golf Club & Plantation's armor. It's a great layout with great holes at every turn in a setting that never ceases to amaze. It's a demanding test that can gobble up golf balls, but the views soften the blow of turning in a scorecard that might be better off being ripped up and discarded, Jason Scott Deegan writes.
... full article »

The Surf Golf & Beach Club is an architectural oddity. All 10 par 4s dogleg right, some gently and others like an extremely bent elbow. All four par 5s dogleg left, twisting in the opposite direction. All this sameness might hinder lesser designs, but not the Surf Golf & Beach Club. What George Cobb designed in 1960 and John LaFoy modernized in 1992 is a 6,842-yard parkland course that provides endless joy for anybody who plays it.
... full article »

Casual golfers might not recognize the name Dan Maples, but savvy golfers know the underrated architect belongs to a respected family in golf. Maples courses have become synonymous with playable, commonsense golf without gimmicks. Golf Digest ranks seven Dan Maples courses among its top 60 along the Grand Strand, which is more than any other architect.
... full article »

When the tide is out, the marshes of the Tidewater Golf Club & Plantation look like a graveyard for golf balls. It's the best looking cemetery a golfer will ever see. The stirring views of the Intracoastal Waterway and the inlet leading to the ocean set Tidewater apart from its competition along the Grand Strand.
... full article »

The Witch Golf Club casts its spell on golfers with a secluded, natural setting without a single home or condo in sight. Architect Dan Maples used 500 acres halfway between Myrtle Beach and Conway to craft something special. It might be priced like a middle-tier course along the Grand Strand, but The Witch looks and plays like one of the big boys.
... full article »

The Long Bay Club might lie a bit off the beaten Grand Strand path –- Longs is about a 15-minute drive from the north end of Myrtle Beach –- but it is well worth the trip to experience some Myrtle Beach golf history and a "classic" Jack Nicklaus design. The course is in the best shape in recent memory (though the rough is dormant during winter and early spring), and the staff are friendly, informative and accommodating to a fault.
... full article »

Simply put, there isn't another course on the Grand Strand like Pawleys Plantation Golf and Country Club, and that's part of the reason it can be considered in the upper end of the spectrum of Myrtle Beach-area courses. The design is unique, the course is in great condition, and it provides the memorable holes and shots golfers want to remember after every round.
... full article »

A tradition unlike any other: The Hootie & The Blowfish Monday After The Masters Celebrity Pro-Am is possibly the antithesis of Augusta National. More than 6,000 fans partied hard like only Myrtle Beach can at the Dye Club at Barefoot Resort & Golf during the 19th annual Monday after The Masters April 15. Veteran golf writer Jason Scott Deegan was there.
... full article »

Playing Crescent Pointe Golf Club in Bluffton, S.C. never gets old. With three holes flirting with the scenic Colleton River, this 6,773-yard par-71 Arnold Palmer design both delights the senses and creates thrilling theater. Water lurks around every twist of the fairway, adding strategy and drama on nearly every shot.
... full article »

While Eagle's Pointe Golf Club is among the most player-friendly golf courses in the Hilton Head area, don't call it easy. But feel free to swing away on this Davis Love III design that serves as the perfect complement to its sister course, Arnold Palmer's Crescent Pointe G.C.
... full article »

Photo gallery: Love Course at Barefoot Resort & Golf in North Myrtle Beach is filled with Lowcountry character
Photo gallery: Caledonia Golf & Fish Club is a secluded retreat on the south end of the Grand Strand
Photo gallery: Barefoot Resort & Golf in North Myrtle Beach offers a foursome of courses for your foursome
Scottish-inspired Legends resort in Myrtle Beach, South Carolina: A Grand Strand golf vacation in and of itself
The Golf Club at Wescott Plantation north of Charleston, S.C.: A municipal course that does it all right
Ocean Creek Golf Club at South Carolina's Fripp Island Resort: A page from the Jungle Book, literally
Hungry after golf and want more than a buffet? Here are 5 top sit-down seafood restaurants in Myrtle Beach
Serenity now! After The Ocean Course beats you up, head for the more-peaceful Osprey Point on Kiawah Island
Photo gallery: Inspired by Scotland, Aberdeen Country Club has anything by a typical Myrtle Beach feel
Tired of Myrtle Beach madness? Take it slower and easier at Sea Trail Golf Resort in Sunset Beach, N.C.